Ancient temples, monuments, caves, forests and hot springs dot the scenic hills and plains of Bihar, where Buddha wandered in his search for salvation.
Not many think of the dusty plains of Bihar as a tourism hotspot, but the state attracts thousands of visitors from all over the world, surpassing vacation hubs like Goa. So what brings them here? A glimpse of the holy land where the Buddha wandered, searching for salvation.
Photo: Bpilgrim, Wikipedia
The foremost destination for pilgrims is Bodh Gaya, where Buddha attained enlightenment under a peepal tree. The behemoth that stands here today is not quite the tree under which the Buddha sat – it was planted in the 19th century from a sapling in Sri Lanka that took root from a branch of the original Bodhi tree. The tree is situated in the Mahabodhi Complex, which also houses a grand temple. Its imposing spire towers above the town and its precinct resonates with the rhythmic beating of gongs. To soak in the spiritual ambience, many visitors stay on for months and undertake meditation and vipasana courses.
Few tourists venture beyond Bodh Gaya, but it is in the hinterlands that one gets a holistic experience of the Buddhist legacy of Bihar. About 70km way, lies Rajgir, where the Buddha lived for many years and converted the Mauryan emperor Bimbisara. Rajgir is a delight not only for its myriad monuments, but also the scenic terrain. The forested, low-lying hills surrounding the town offer splendid views, hot springs and endless opportunities for hiking.
Go across the Ganga to Kesaria Stupa and Vaishali in north Bihar. This region is famous for its litchis and in May-June, you can have a luscious 'farm-to-finger' experience – farmers sell freshly-plucked litchis on the highways, right next to their orchards. Buddha gave his last sermon in Vaishali and there couldn't be a more fitting end to your journey in his footsteps.
Highlights
Mahabodhi Temple Complex, the holiest Buddhist shrine in the world that marks the spot where the Buddha attained enlightenment.
Whisper softly in the smooth, polished interiors of the Barabar Caves to hear its renowned echo effect that was central to the plot of EM Forster's A Passage to India.
Ride the rickety aerial ropeway to the hilltop Shanti Stupa, a striking marble structure built as a symbol of peace.
Trek to the Saptaparni Caves atop the Vaibhar Hill. They were the venue of the First Buddhist Council. En route, there are a plethora of Jain temples, ruins, sculptures and gorgeous views of Rajgir.
Nalanda, the first residential university in the world that, at its peak, played host to 10,000 students and 2,000 teachers.
Itinerary
Day 1: Arrive at Gaya Airport/ Railway Station. Explore Bodh Gaya (Mahabodhi Temple Complex, Animesh, Lochan Chaitya, Chankramana, Ratnagarh, Archaeological Museum and Pragbodhi Hill). Stay at Bodh Gaya.
Other Attractions: Vishnupad Temple, Gaya.
Day 2: Visit Barabar Caves, the oldest surviving rock cut caves in India, and Kauwa Dol. Then proceed to Rajgir (Giddhakoot, Shanti Stupa, Swarna Bhandar, Bimbisara Jail, Son Bhandar and newly excavated stupa). Stay at Rajgir.
Other Attractions: Horse buggy ride/ Cycling to Ghora Katora Lake, Maniyar Math, Jarasandh ka Akhara and chariot marks.
Day 3: Rajgir (Trek to Saptaparni Caves, Pippala Cave, Ajatashatru Stupa and Cyclopean Wall). Visit Nalanda (Archaeological Site & Museum). Stay at Patna.
Other Attractions: Makhdoom Kund, Brahma Kund, Jain temples and ruins (en route to Saptaparni Caves) on Vaibhar Hill and Pawapuri Jal Mandir.
Day 4: Visit Vaishali and Kesaria Stupa. Catch return flight or train from Patna.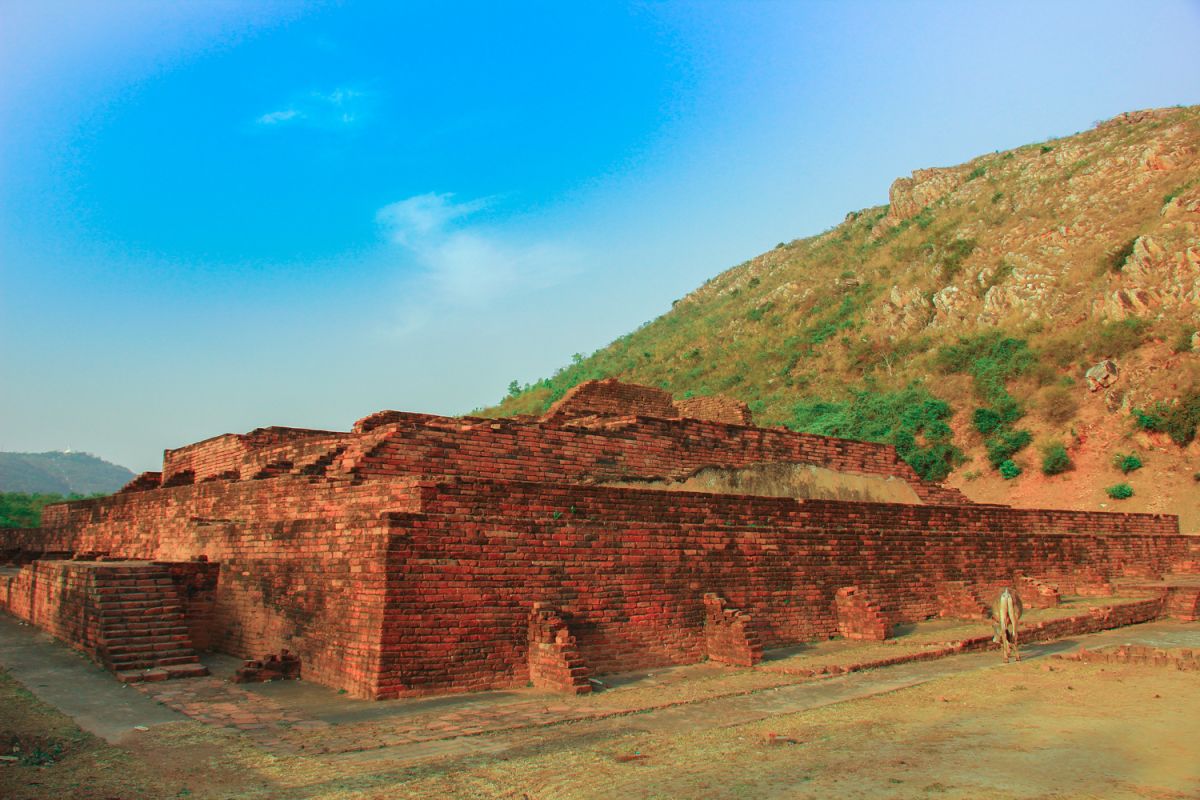 Good to Know
The best time to visit Bihar is October to March, when the weather is pleasant – summers are intolerably hot. It is mostly humid during the monsoons (June–August), but the landscape is at its lushest at this time.
Although public transport connects the various destinations, they are neither reliable, nor comfortable. If you are pressed for time, it is best to hire a cab from Gaya. Your hotel can arrange for one.
The Kalachakra Festival (kalachakra.in), held in Bodh Gaya in December–January, draws hordes of devotees. Hotels get booked out in Bodh Gaya and Rajgir, so make your reservations in advance.