It takes a certain amount of grit and madness to ride along the high Himalayan roads with its barren but mesmerizing landscapes. Manali to Leh happens to attract bikers all season. Have you covered it yet?
Service: Check. Equipment: Check. Safety gear: Check. Rainproof cover: Check.
Biking is all about the adrenalin rush and when a friend suggested that we bike from Manali to Leh, I could feel thrill rush through my body. This had been on my bucket list for some time now — a dream that I had pushed to the back of my mind, given my corporate work style. It takes a tough hand to break a 10-to-6 schedule. But still I have gave in to the impulse.
All Photographs: Shutterstock
Though it was a impulsive decision to pedal all the way to the high altitude desert but there could be no room for recklessness when planning. The roads are not that easy as they keep putting the challenges in front of you and Manali to Leh biking is a tough expedition that takes you through the splendors of regions that fall in the shadow of the mighty Himalayas.
This road is a real test of your stamina. But once you allow yourself to take up this challenge, it celebrates your harmony with your machine, immerses you in amazing vistas people can only dream of.
As you take up your journey to ride through the untraveled paths, you begin to love the wind that beats on your face and adds a new dimension to the exceptional joy of exploring this pristine landscape. The air here is thin, crisp and clean and the beauty of the surroundings makes all the workings of the world irrelevant, except that of you and your bike.
Tips & Tricks
It is best to make very good friends with your machine. Since I had begun my journey from Manali, I had spent a day prior familiarizing myself with the bike and work out my muscles. A good idea is to ride to Naggar or Solang (about 25 km from Manali) for a warm-up. It would also serve as a perfect test of both man and machine.
Have your route map well planned with all halts and checks pre-figured. Mark all safe halts along the route. One the first day I covered till Rohtang Pass. The first 30 km till Marhi are a steady climb over good tarmac. It's a wonderful climb through dense green forests and beautiful views of the Pir Panjal mountain range. However, be prepared for a heavy traffic as Rohtang La is favourite amongst tourist. The climb from Marhi to Rohtang La is steep and narrow, followed by a 12kms downhill till you reach the base of Rohtang La.
Try and cover the distance till Jispa the following day. It's mainly a downhill journey covering about 70km via Koksar Bridge over the raging Chandra River, Keylong finally, Jispa. There are decent accommodation or even choose to camp. We had camped for the night.
Day three sees a steady climb. The first section from Jispa till Darcha is a softly undulating road. Darcha has the Himachal Pradesh Police Check Post and is the starting point of most of the trekking routes into Zanskar. After Darcha you begin a steady climb till you reach the plains of Pateso.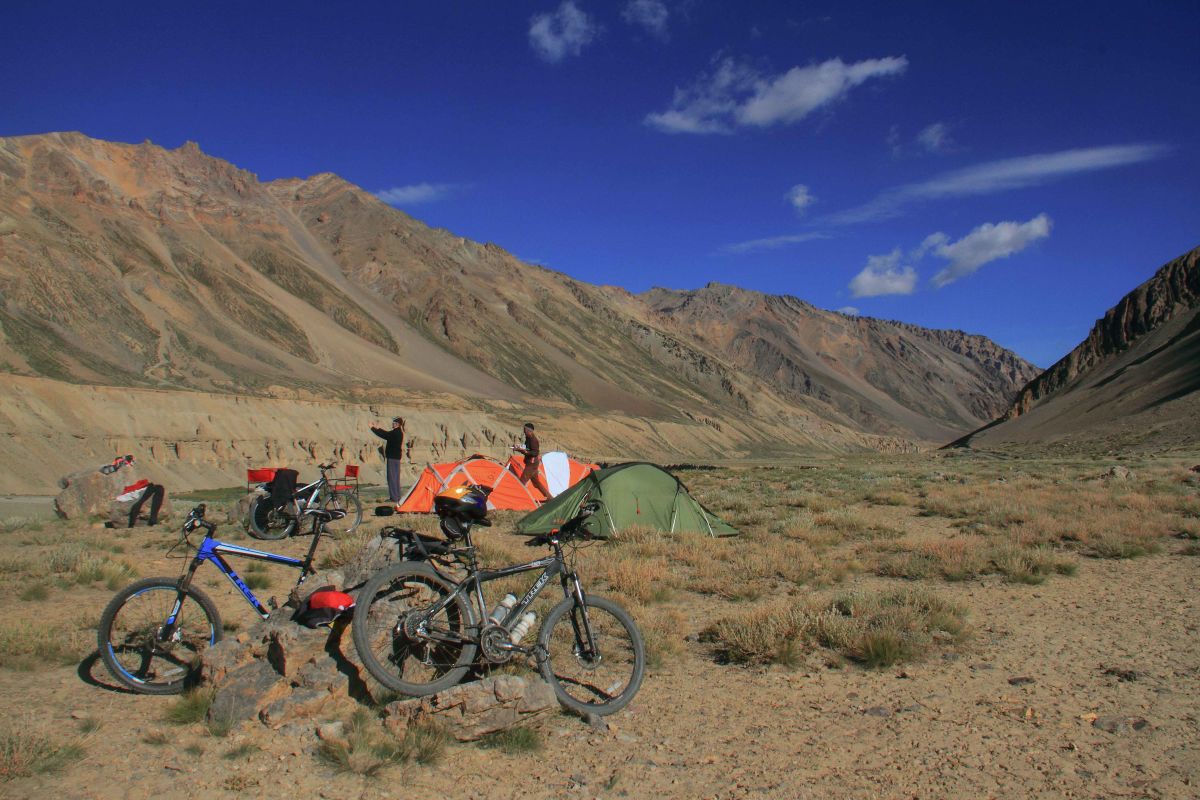 Do make a point to break your journey at Deepak Tal. It is a beautiful mountain lake just before Pateso to your left. At Pateso, you will cross an Indian Army transit camp, before reaching a clearing where you may park yourself for the night. In terms of journey, you can easily clock about 40 km.
The following day, our aim was to hit Sarchu, covering about 60 km. It's going to be tough ride but one with majestic views as you cross the mighty Baralacha La, the confluence of Bagha and Chandra rivers and then a sharp descent to Bharatpur before you hit the plains of Sarchu.
Post Sarchu is a tough uphill climb and requires some navigating around hair pin bends. Go steady and make it a point to check your tyres in case you cross a particularly treacherous stretch. This is till you reach Nakee La at the height of 4,725 m/15,500 feet. From this pass, it is downhill till Whisky Nalla where we had camped for the night. In terms of riding distance, this would mean you covering approximately 55 km.
Into the character completely, you can easily cover the next 80 kms in a day. Aim for Debring, the base of the second highest pass in the region, the Tanglang La Pass (5,334 m / 17,500 feet). You can now feel rarified air and befriend the heights as the journey from here grows in altitude, part gradually and part sharply.
We had first tacked the climb, which was about 21 km of gradual ascent with short steep sections. In terms of altitude, we had started around 4,572 m / 15,000 feet and biked up to 5,334 m / 17,500 feet. After the climb, was a very quick 25 km descent on a winding tarmacked road all the way down to Lato at 3,963 m / 13,000 feet. This is where we had camped for the night.
The last leg of our trip was about 75 km, when began our day by descending on a winding metaled road till we reach Upshi. From Upshi, the ride to Leh is a journey through undulating landscapes with small sharp climbs and descends.
For an adventure seeker, there is nothing like reaching a destination, as there is always the next chapter waiting to be unraveled. We had spent a good two days exploring the region, hanging out in the local eateries, meeting the locals and of course, visiting the gompas. Truly, it is only after you spend time with them do you appreciate how simple and uncluttered a life do these people live. And the sense of accomplishment of having fulfilled a wondrous journey would surely leave you satisfied. Till, you plan your next trip again.
Highlights
Explore cafes and restaurants in Old Manali
Road trip to Pangong Tso Lake
Stopover at Deepak Tal
Break at Zing Zing Bar at the base of Baralacha La
Visit Leh Palace and Sakar Gompa
Crossing five tough Himalayan passes and riding over Tanglang La at 5,350 meters (17,550 feet).
Good to Know
When to go: Mid-August to mid-September
How to reach: By train to Chandigarh and thereafter by road to Manali or by Air to Kullu and thereafter by road to Manali, from where the expedition takes off.
Clothing: Make sure to pack ample warm clothing.
Preparation: The trip includes eight days of hard riding in the Himalayas. Make sure to plan a fitness regime to boost your stamina and brush up your riding skills with good practice, at least two months before you embark on the journey.