Women stringing rice grains, an award-winning craftsman weaving mats and a deaf-and-mute artist sculpting birds and animals – these are some of the sights at Sargaalaya Arts & Crafts Village, a unique initiative where you can not only see artisans at work, but also buy handicrafts from across the state.
Here are some of the traditional arts you must look out for on a visit to Sargaalaya.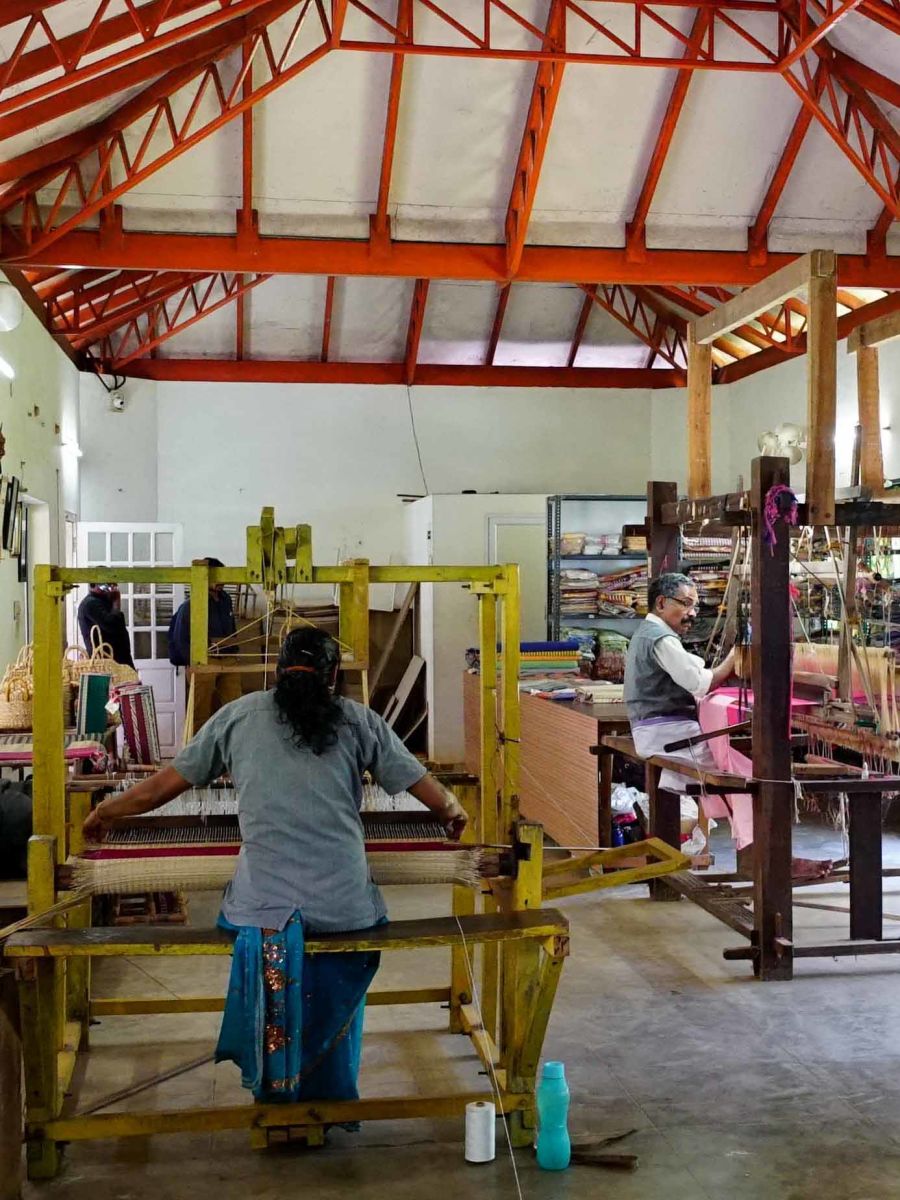 All Photographs: Syed Saad Ahmed
Coconut Stem, Shell & Coir Handicrafts
You must have heard that just about every part of a coconut tree is useful. At the crafts village, coir, the natural fibre on the husk of the coconut, is used to make jewellery. The wood lends itself to an incredible array of items – pots, spoons, ladles, lamps, hangers and decorative knick-knacks.
Aranmula Mirror
The most remarkable thing about this mirror is that it is not made from glass and thus, cannot be shattered. It is fashioned using an alloy whose contents remain a secret guarded by the artisans of Aranmula, a temple town in southern Kerala. Although I did not spot any craftspersons making the mirror at Sargaalaya, they are available for sale at the emporium.
Screw Pine & Kora Grass Craft
The soft and flexible leaves of the female screw pine plant excellent for making mats, bags and folders. After the thorns at the edges of the leaves are removed, they are boiled to extract the fibres. Mats made from kora grass are unique to Kerala. At the crafts village, you can see NC Ayappan, an award-winning artisan at work.
Seed Grain & Seashell Handicrafts
Jewellery is made out of seashells and more interestingly, by arranging seed grains in decorative patterns to make pendants and stringing them together like beads to make necklaces.
Nirapara
A symbol of prosperity in Kerala, the nirapara (para is the traditional paddy measuring container) is a vessel used in Hindu marriage rituals and on other auspicious occasions. Although it was traditionally made of the wood of the jackfruit tree, it is now fabricated with brass and coconut stem as well.
Vetiver Products
The roots of the vetiver (khus in Hindi), a plant native to India, are reputed to have cooling and cleansing properties as well as other medicinal benefits. At the crafts village, vetiver is used to manufacture acupressure slippers, mats, hats, decorative masks, wallets and loofahs.
Metal Engravings & Mural Paintings
Kerala has the largest number of archaeologically significant mural sites after Rajasthan. These were painted on the walls of palaces and temples and usually depicted mythological themes. The murals on sale at Sargaalaya have been painted by contemporary artists trained in the ancient art form. You can also pick up metal engravings. The fine etchings on a thin metal sheet almost look like paintings.