The people you meet during your travels make your journey more memorable. Musician Shantanu Moitra had some fascinating encounters during his 100-day-long Himalayan odyssey. Here, he shares the story of Ani Choying Drolma, a female monk in Nepal
As Shantanu tracked his path in the Himalayas towards Nepal, he made an observation that the women of the region are a force to reckon with. Shantanuchose to track down Ani Choying Drolma a Nepalese Buddhist nun and musician from the Nagi Gompa nunnery in Nepal during his mountain trail.
All Photographs: Dhritiman Mukherjee
Famous internationally for bringing many Tibetan Buddhist chants and feast songs to mainstream audiences, says Shantanu, "Ani has in fact collaborated with many biggies of the music world like AR Rahman, Steve Tibbetts to name a few. I have always seen her encouraging everyone to pursue music. She has always worked towards rescuing girls from sex trafficking and feels that music is a great healer.She is a revolutionary person and meeting her was inspirational".

Ani and Shantanu went on to become good friends and music has become their connecting link. While visiting her nunnery in Nepal,  Shantanu sang the song "Give me some sunshine" from the film "3 Idiots" for the inmates, and he says, "I could see it right there how music connects and breaks boundaries! The kids joined in chorus and we all had a great time as the mountains reverberated with the music…"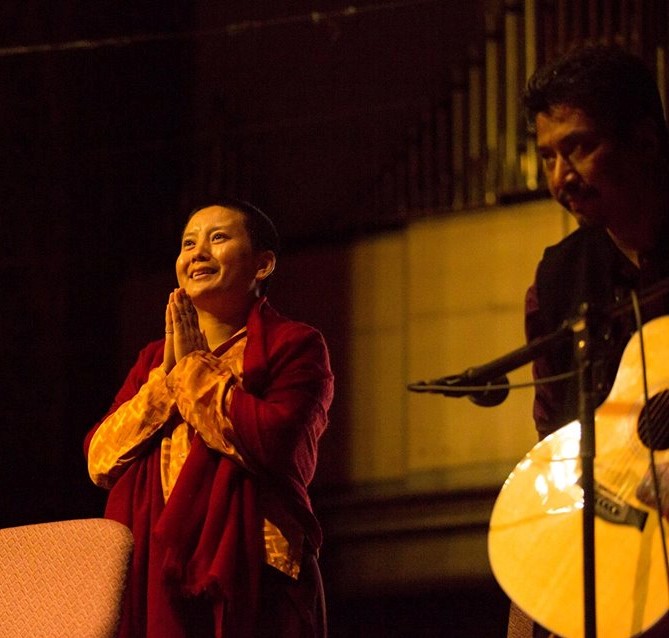 Says he, "Ani is one of the rare non-conservative, non-conventional Buddhist nuns I have met"
According to CNN, She has performed around the world — including to an audience of 20,000 people in Tibet last Easter — counts superstars like Tina Turner and Tracy Chapman among her fans, and her biography "Singing For Freedom", first published in French in 2008, has been translated into 15 languages.
Be it rafting in River Trishuli, experiencing the steep rapids and boulders or hopping into a hang-glider to have a birds-eye view of the peaks of Annapurna, Nepal was much of a self-exploring journey for Shantanu, and now mountains have taken on a different meaning. They are also about the sounds of music emanating from Ani Choying Drolma's nunnery!
With 12 pop albums to her name, there is something about Drolma for sure.