Colonial Kolkata still holds a charm that will make you go nostalgic and there's nothing better than to walk down those alleys full of broken windows and almost vanishing street names to explore the city's real pulse.
Meandering around the streets in Park Street colonial architecture will catch your attention and if you have a keen eye, who knows you might end up exploring some real buried treasure. The South Park Street Cemetery is our favourite.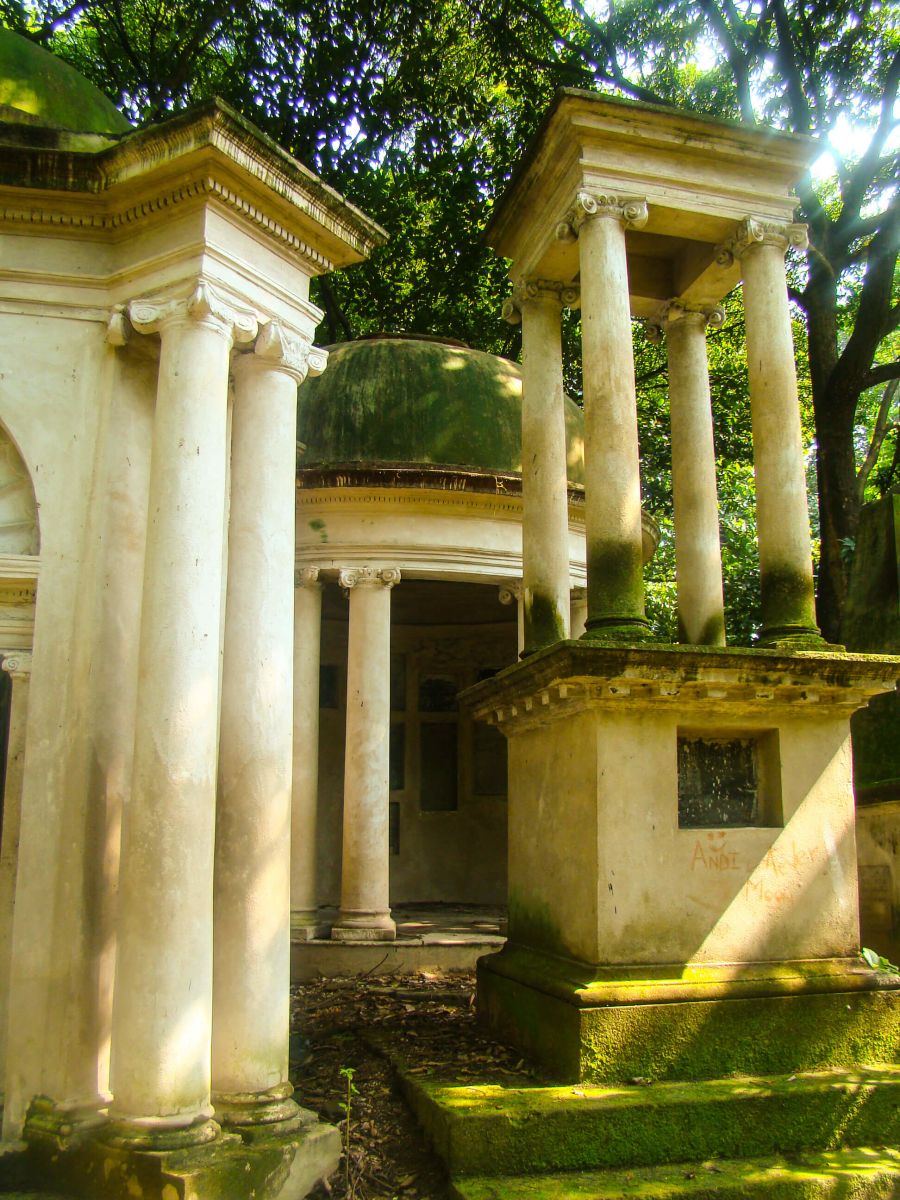 All Photographs: Ayandrali Dutta
The concrete bed
Standing at the South Park Street Cemetery it's difficult to imagine that this place was once a dense jungle where Clive hunted tigers and today it happens to be the popular Free School Street. The 18th and 19th century Bengal saw a huge British community influence and from time to time many expats made this city their home and few even breathed their last here.
Nothing less than the Pere Lachaise in grandiose, South Park Street Cemetery was officially opened in 1767 where the burials happened only at night by torchlight. The first one to be buried was John Wood in 25th August, 1767. Spread across eight acres, the cemetery sees around 1000-1100 graves of all sizes.
The unique look and feel of each grave gives insight into how death has been glorified by the British and the mausoleums erected above the graves speak about the eclectic tastes of India's British masters.
Another unique tomb is that of Elizabeth Barwell, daughter of a Colonel in East India Company's with massive pyramids. Also buried here is Maj Gen Charles Stuart who was also known as the 'Hindoo Stuart,' an officer of the British East India Company and one of the White Mughals, who had embraced India and its culture wholeheartedly.
The swampy burial ground
The tombs are done up in gothic and Indo-Saracenic styles. The graves are mostly obelisks shape (tall narrow tapering structures) while few are like pyramids, urns or pavilions and the cemetery makes for a great place for information to view and understand the forerunners of the rulers of India. They too had their share of sufferings, the biggest of all – to lay buried alone in a land far away from home.
Today these tall graves are mostly covered with moss and lack proper care. It's no less than an open air history book. Though first phase of restorations were done in 2007 still much needs to be taken care. Rudyard Kipling had written very rightly about this historic cemetery, ''the tombs are small houses.
It is as though we walked down the streets of a town, so tall are they and so closely do they stand—a town shriveled by fire, and scarred by frost and siege. Men must have been afraid of their friends rising up before the due time that they weighted them with such cruel mounds of masonry.''
The burials at the cemetery closed in the 1830s. All the East India Company people who lay buried away from their home here have a lot of story too buried with them, a price paid for the British conquest of India.
Good To Know
Location:  Park Street area in Kolkata
What it is :One of the largest non-church Christian cemeteries outside Europe and America. Today, it is no longer in use and is a heritage site.
Tip: it is believed to be haunted too!
Entry ticket – Rs 100
Timings – 10 am to 5 pm